Greetings to All we would like to start our Blog with a tribute to Major-General H.H Dr. Jaya Chamaraja Wadiyar, Maharaja of Mysore, G.C.B., G.C.S.I. on the occasion of his 101st Birth Anniversary.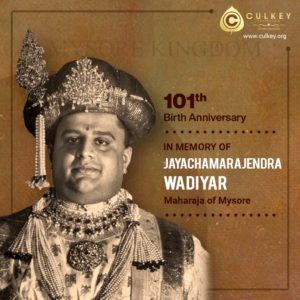 Maharaja Jayachamarajendra Wadiyar (ಜಯಚಾಮರಾಜೇಂದ್ರ ಒಡೆಯರು); 18 July 1919 – 23 September 1974), was the twenty-fifth maharaja of the Kingdom of Mysore from 1940 to 1971, ruling from 1940 until the monarchy was abolished in 1950, continuing to hold the title of maharaja till 1971, and remaining
His Early Life: It was on July 18, 1919, the Mysore Palace witnessed the birth of a prince. The baby boy was born to Yuvaraja Kantirava Narasimharaja Wadiyar. The birth of a male child in the royal family was significant and most joyous because the reigning King, Krishnaraja Wadiyar IV, was without an heir to the throne, like his predecessor Maharaja Krishnaraja Wadiyar III. The prince was named Jaya Chamaraja Wadiyar.
The only son of Kantirava Narasimharaja Wadiyar, Jaya Chamaraja Wadiyar succeeded to the throne as the adopted son of his uncle, Krishnaraja Wadiyar IV. The installation took place on September 8, 1940. Besides becoming a popular ruler, Jaya Chamaraja Wadiyar earned fame as a scholar among the princes.
He ascended the Mysore throne when he was 23 and ruled the state well. He was one of the first rulers to join the Indian Union after independence and was Rajapramukh of Mysore first and then Governor of Mysore and later Governor of Madras, after which position, he retired from administrative responsibilities. He earned the regard and affection of the people in these positions. He then accepted lecturing engagements at the invitation of public bodies in North and South America, Ghana, Switzerland, Russia and Australia. Jayachamaraja Wadiyar followed democratic methods in his administration and was celebrated by his subjects alike his uncle.
He was a good horseman and a tennis player who helped Ramanathan Krishnan to participate at Wimbledon. He was also well known for his marksmanship and was highly sought-after by his subjects whenever a rogue elephant or a man-eating tiger attacked their immediate surroundings. There are many wildlife trophies attributed to him in the Palace collections. He was responsible for the famous cricketer/off-spin bowler, E. A. S. Prasanna's visit to West Indies as his father was otherwise reluctant to send him.
He was a connoisseur of both western and Carnatic (South Indian classical) music and an acknowledged authority of Indian Philosophy. He helped the Western world discover the music of a little-known Russian composer Nikolai Medtner (1880–1951), financing the recording of a large number of his compositions and founding the Medtner Society in 1949. Medtner's Third Piano Concerto is dedicated to the Maharaja of Mysore. He became a Licentiate of the Guildhall School of Music, London and honorary Fellow of Trinity College of Music, London, in 1945.
He was the first president of the Philharmonia Concert Society, London in 1948.
Many noted Indian musicians received patronage at his court, including Mysore Vasudevachar, Veena Venkatagiriyappa, B. Devendrappa, V. Doraiswamy Iyengar, T. Chowdiah, Tiger Vardachar, Chennakeshaviah, Titte Krishna Iyengar, S. N. Mariappa, Chintalapalli Ramachandra Rao, R. N. Doreswamy, H. M. Vaidyalinga Bhagavatar.
The Quest for Peace: an Indian Approach, University of Minnesota, Minneapolis 1959.
Dattatreya: The Way & The Goal, Allen & Unwin, London 1957.
The Gita and Indian Culture, Orient Longmans, Bombay, 1963.
Religion And Man, Orient Longmans, Bombay, 1965. Based on Prof. Ranade Series Lectures instituted at Karnataka University in 1961.
Avadhuta: Reason & Reverence, Indian Institute of World Culture, Bangalore, 1958.
An Aspect Of Indian Aesthetics, University of Madras, 1956.
Puranas As The Vehicles Of India's Philosophy Of History, Journal Purana, issue #5, 1963.
Advaita Philosophy, Sringeri Souvenir Volume, 1965, pages 62–64.
Sri Suresvaracharya, Sringeri Souvenir Volume, Srirangam, 1970, pages 1–8.
Kundalini Yoga, A review of "Serpent Power" by Sir John Woodroff.
Note on Ecological Surveys to precede Large Irrigation Projects– Wesley Press, Mysore; 1955
African Survey-Bangalore Press; 1955
The Virtuous Way of Life – Mountain Path – July 1964 edition
Dedicated by gracious permission to His Highness, Sri Jayacahamaraja Wadiyar Bahadur, Maharaja of Mysore- Ruler, Scholar, and patron of Arts and sciences and supporter of every good cause aiming at the moral and material progress of the people – In token of His Highness' deep and abiding interest in the scientific study of History and pursuit of Historical Research along modern lines.
It aptly sums up the personality of the Maharaja.
#mysore #maharaja #jayachamaraja #wadiyar #birth #anniversary #mysorepalace #bherunda #bherundamedia #bherundapublications