Temples
Project #NammaDevasthana #EnkovilEnkovil – Rejuvenating Temples in Public Private Partnership Mode
Namma Devasthana / Enkovil is a Platform envisioned to help you connect with your roots, traditions and culture through  participation in the restoration of our temples to  their ancient glory.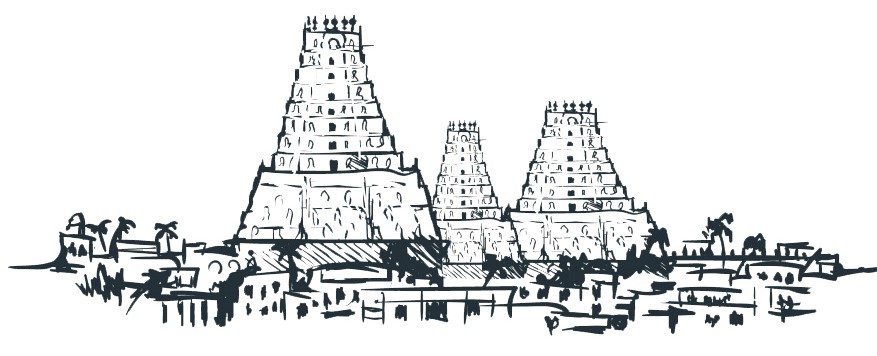 Mission Goal
The main goal of the platform is to assist in the preservation of heritage temples, presently in poor condition and in need of help to sustain themselves, through crowd sourced funding. By bringing up in the public domain their historical, religious, and architectural data, a fillip is also expected to be given to the various art forms unique to them, while conserving the associated rituals and Vedic texts. The increased footfalls that are obtained as a result is expected to impact local economy as well.
Temples that are our precious heritage have their deep roots in Vedic Traditions and have invariably been the epicentre of activity in the respective communities over ages. Several of them, many centuries old, are the last vestiges our ancient culture representing significant chapters in our history. So are the cultural assets in the communities around them in the form of art forms such as Music, Dance, Folklore, Food and Festivities. Unfortunately, these have been registering a sharp decline over time and gradually disappearing due to neglect. 
Sthala Puranas for these temples describe their importance and religious significance in the context of our Ithihasas and Puranas.  These have often been written by sages and saints; they have been passed over to successive generations through Pandits and learned Scholars in and around the community, sometimes in writing and often orally. These too are being lost gradually due to erosion of such local wisdom arising from large-scale migration and lack of support. In many of the temples the last vestiges now rest with the passing generation of the local priests and Pandits. These are likely to be lost forever unless we act on it now.
On a physical level, the Premises are often seen to be littered with debris and junk, and overrun by weeds.  ​Even the structures have growth of such weeds which if ignored are bound to weaken them over a period of time​. The priests in these temples are unable to carry out even the daily Pujas and rituals due to lack of adequate funds. It is sad that they- though poorly remunerated themselves- often step in with their meagre personal income to ensure these are carried out without a break.
Most temples come under the control of the Government administered by a department and controlled through Rules and Regulations prescribed for the purpose, the structure being different and unique to each State.  With paucity of funds arising from inadequate allocations under the budget, this eco-system needs intervention of and participation from Voluntary Sector Initiatives to address the above issues.
Projects in Karnataka:
1. Sri Rama Temple, Kudlur Village, Channapatna Taluk, Ramanagara District
Historical Significance: The place where Lord Rama gave Moksha to Jatayu and Rama stands alone as Rama the Healer.
Summary of Activities:
Cleared the temple premises of debris, weeds, plastic pieces etc,.
Removed Graffiti from walls & Did a Acid Wash
Removed weeds growing on the temple structure
Built a 'in house' garden to grow flowers for worship & Fenced it
Toilet Reconstruction Started
Pooja to Deity was done only in Morning, now it is being done in the morning and evening as Poojari is Renumerated
All Necessary Pooja Items like Oil, Ghee, Flowers, are given
Prasadam is prepared daily (Calendar Day wise – Puliogare, Curd Rice, Sweet Pongal, Coconut Rice, Lemon, Rice) One item a day on rotation and distributed
The Localites have joined hands in maintaining the Temple and a sense of ownership has come back
Deepavali and Vishnu Deepam Festival celebrated with Pomp and Glory
Overall Footfall for Deepavali 200+, for Vishnu Deepa 300+
Temple is on social media, has a separate Account on Koo and Pooja's etc are posted.
Temple goes Live on Zoom and FB during Special Pooja Days
Projects in Tamil Nadu:
1. Arulmigu Kodhandaramaswami Koil, Adhambar Village, Nannilam Taluk, Tiruvarur District
Historical Significance: Lord Rama decided to kill the Deer Maaricha at Adambar, hence known for decision making